Steps for playing online slots
| » |
Let's delve into the steps for playing online slots, from choosing a game to cashing out your winnings. Playing online slots is a popular pastime for many people around the world. The thrill of the spinning reels, the anticipation of the symbols lining up, and the possibility of hitting a big jackpot all make online slots an enticing choice for both novice and experienced gamblers. But how do you go from being a beginner to confidently playing online slots?
Before you can start playing online slots, the first step is to find a reputable online casino. The digital landscape is saturated with online casinos, and not all of them are trustworthy. Research is key here. Look for online casinos that are licensed and regulated by well-known gambling authorities. Check for fair gaming certifications and secure encryption technology to protect your personal and financial information. Reading reviews from other players can also be helpful to gauge the reputation of the online casino.
---
Top Rated USA Online Casino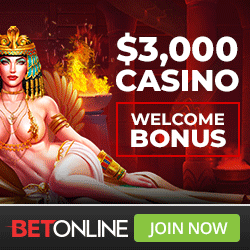 Betonline Casino
At BetOnline Casino, new players are welcomed with a generous welcome bonus package that gives them a substantial boost to start their gaming journey. Up To $3000 in First Deposit Bonuses. USA and Worldwide players Welcome.
---
Once you've found a reliable online casino, the next step is to register an account. This typically involves providing some personal details and choosing a username and password. Some online casinos also offer the option to play as a guest, but if you want to play with real money, you'll need to create an account. Make sure to keep your login details secure and don't share them with anyone.
After registering an account, the next step is to deposit funds. Online casinos offer a variety of payment methods, including credit and debit cards, e-wallets, bank transfers, and even cryptocurrencies. Choose the payment method that is most convenient for you. Remember to only deposit money that you can afford to lose. Gambling should be viewed as a form of entertainment, not a way to make money.
With funds in your account, you're now ready to choose a slot game. Online casinos typically offer a wide variety of slot games, from classic 3-reel slots to video slots with multiple paylines and bonus features. Each game has its unique theme, graphics, and sound effects, contributing to the overall gaming experience. When choosing a slot game, consider factors like the game's volatility, return to player (RTP) rate, and bonus features. The volatility refers to the frequency and size of payouts – high volatility slots payout less frequently but have bigger prizes, while low volatility slots payout more often but with smaller prizes. The RTP is the percentage of wagered money that is expected to be paid back to players over time. Games with a higher RTP are generally more player-friendly.
Before you start spinning the reels, take a moment to familiarize yourself with the game rules. This typically involves clicking on the 'info' or 'help' button on the slot game screen. Here, you'll find information about the game's paylines, symbols, bonus features, and payout structure. Make sure you understand how these work before you start playing.
Now, it's time to set your bet. Most online slots allow you to adjust the coin size and number of paylines you want to bet on. Your total bet is calculated by multiplying the coin size by the number of paylines. It's generally a good idea to bet on all paylines to maximize your chances of winning, but remember to keep your total bet within your budget.
With your bet set, you're ready to start spinning the reels. This is usually done by clicking on the 'spin' button. Some slot games also offer an 'autoplay' feature, which allows you to set a certain number of spins to be played automatically.
As the reels spin, the anticipation builds. If the symbols line up in a certain way along the paylines, you win. The amount you win depends on the type and number of symbols that line up. Some slot games also have special symbols like wilds and scatters that can substitute for other symbols or trigger bonus features like free spins or bonus rounds. These bonus features can significantly enhance your gaming experience and increase your chances of winning.
While the thrill of the game might make you want to continue spinning, it's important to know when to stop. Set a loss limit and a win goal before you start playing. If you reach your loss limit, stop playing. Similarly, if you reach your win goal, consider cashing out your winnings instead of continuing to play. This helps you manage your bankroll effectively and avoid chasing losses or giving back your winnings.
Cashing out your winnings is the final step. The process for this varies between online casinos but usually involves navigating to your account or cashier section and choosing the withdrawal option. Just like with deposits, online casinos offer a variety of withdrawal methods. Choose the one that is most convenient for you. Keep in mind that some casinos might require you to complete identity verification procedures before you can make a withdrawal. This is a standard security measure to prevent fraudulent activities.
Remember to be patient when cashing out, as withdrawal times can vary depending on the method used. E-wallet withdrawals are usually the quickest, while bank transfers might take several business days. During this time, it's important to resist the temptation to cancel the withdrawal and continue playing. Once the money is in your account, you can decide whether to use it for further gambling, save it, or spend it on something you enjoy.
In conclusion, playing online slots involves several steps: choosing a reputable online casino, registering an account, depositing funds, choosing a slot game, understanding the game rules, setting your bet, spinning the reels, and cashing out your winnings. Each step is important to ensure a safe, enjoyable, and potentially rewarding gaming experience. Remember that while online slots offer the chance of winning money, they should primarily be viewed as a form of entertainment. Always gamble responsibly and within your means. Happy spinning!
---